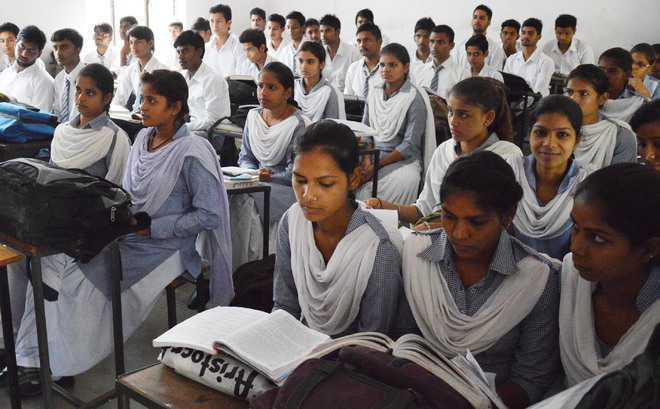 The metamorphosis of 2,524 government schools in Punjab from ramshackle buildings to sought-after institutions of learning is like the blooming of lotus flowers in a muddy pond. While government efforts towards the improvement of the school sector betray ineptitude and lack of will, it is heartening that philanthropic endeavours by the general public, NRIs and corporates have borne fruit in the short span of a year. Moved by the decline in the condition of schools, the concerned people seem to have taken the onus of improving the state of affairs. It is no surprise that their faith in the ability of the government authorities to do so has taken a beating. For, the ground reality only points to the muddy pond becoming muddier.
Year after year, as students take board exams or answer questionnaires of various surveys, their results mostly indicate a poor standard of education imparted to them. Intricately enmeshed in the inability of children to solve sums or read chapters of even three classes lower than their present class is the quality of teachers. A lot of them can be found more in the streets, agitating for their demands than in engaging productively with the children in classrooms. Whether it is the issue of postings and transfers or of wages, the authorities have floundered. Ditto as far as infrastructure goes. Rundown, leaky school buildings housing students huddled in cold corridors, awaiting winter uniform through the season and textbooks unavailable for months in an academic session are a common plight.
In this bleak scenario, the philanthropic Punjabis present a ray of hope. The culture of giving one-tenth of one's earnings in charity that is ingrained in them comes to the fore as they willingly part with their savings for the needy students. A principal could garner Rs 70,000 aid on day one of his campaign and it encouraged him to collect more funds for the blossoming of his school. Just as the other 2,523 lotuses blooming across the state. But it does not absolve the state of its duty to ensure that its teachers are a satisfied lot and that the children get quality education.
["source=tribuneindia"]